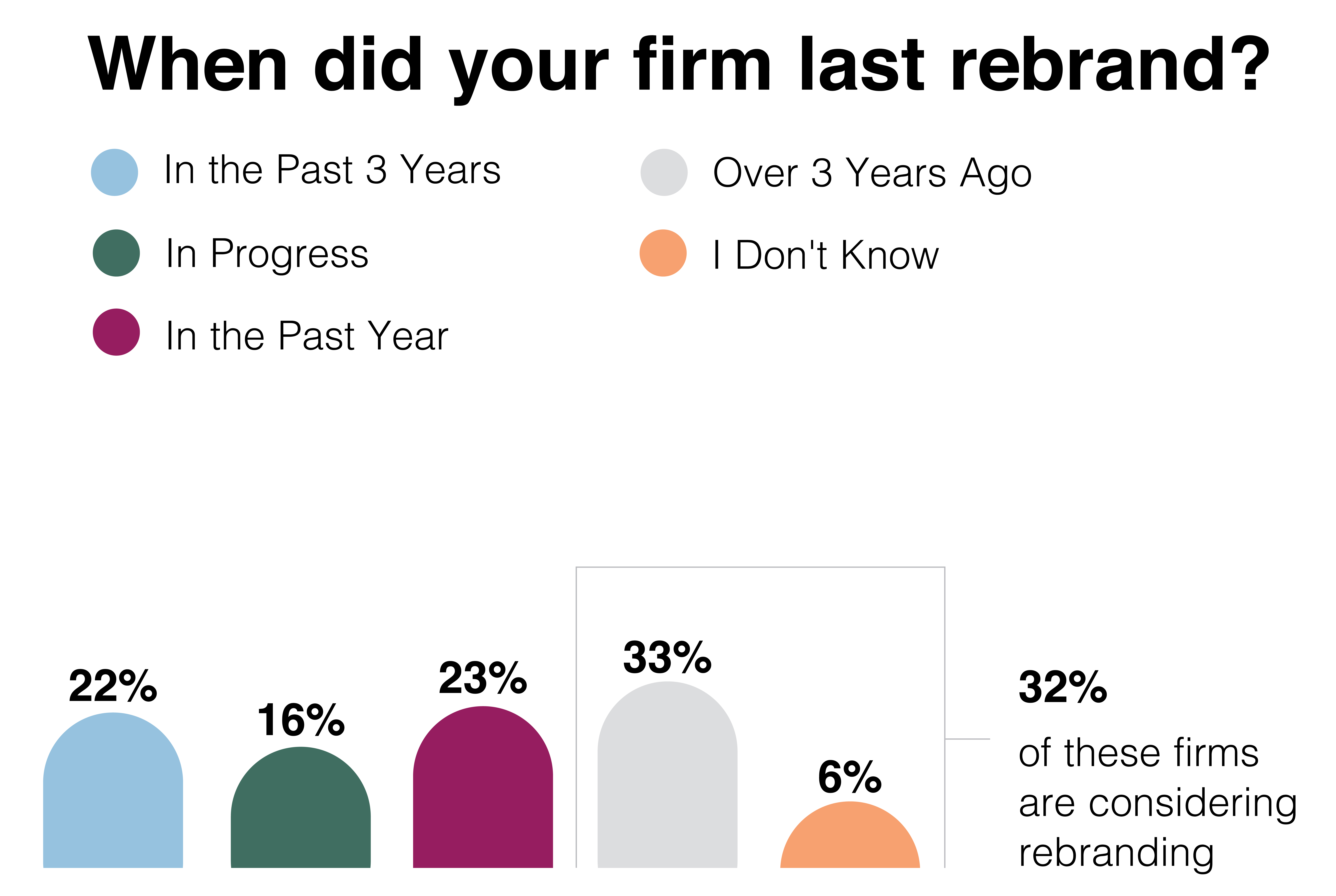 2017 Trends Report
In a recent study of almost 300 law firms coupled with a review of the 2016 National Law Journal top 250 law firm's brands and stationery, we have identified the latest trends in law firm branding, communication and business development materials.
Trend 1 – 93% of Firms are Rebranding
Rebranding is a total makeover of your firm's public persona. It can be expensive and complicated, but it is sometimes necessary.  And it's not just us who thinks so!  93% of firms indicated they are planning to rebrand (32%), are in the process of rebranding now (16%) or have rebranded in the past 3 years (45%).
There was a lot to learn from these firms.
The top 3 reasons to rebrand are…
Outdated/old brand, needs to be refreshed
Website redesign prompted the rebrand
Firm growth, shift in positioning
If you are thinking about rebranding, this post is a great place to start your planning.
The top 3 most difficult aspects of rebranding are…
Staying on schedule
Getting approval of the new brand
Getting approval to rebrand (when the rebrand was not associated with a merger or acquisition)
Trend 2 – Client Gifts, Cards & Seminars are on the Rise
Personal service and client satisfaction is key to business development and client loyalty. So it's no surprise that law firms are investing in tried and true personal messaging with their clients.
These are the top 3 ways 85% of firms are getting personal with their business development:
Sending client gifts
Sending firm branded note cards, greeting cards (such as birthday and sympathy cards) and holiday cards with handwritten personalized messages (see this blog post for more on the benefits of handwritten messages)
Holding seminars and events to get more face-to-face time with current and potential clients
Trend 3 – Color Makes a Statement
According to this study, red is more effective than blue at enhancing our attention to detail, while blue is best at boosting our ability to think creatively.  Red boosted performance on detail-oriented tasks such as memory retrieval by as much as 31% compared to blue.  Yet blue is found in 21% more law firm brands than red.  This is likely because blue is the most popular favorite color in the US and 9 other countries.
A total of 45% of the law firms surveyed chose blue as their primary brand color.  That number jumps to 58% when looking at firms with 100+ attorneys.  More than 86% of firms responded that their firms use 2 or more colors in their brand.
So if you are thinking about rebranding or just want to refresh your business cards, stationery and website, you may want to take a good look at which colors you are using and their affect on memory and perception.  And perhaps, stay away from blue to stand out from the crowd!
More on Trends
For more trends or to see samples of recent, local and national stationery, contact your Account Manager or email us at email@aslegal.com.