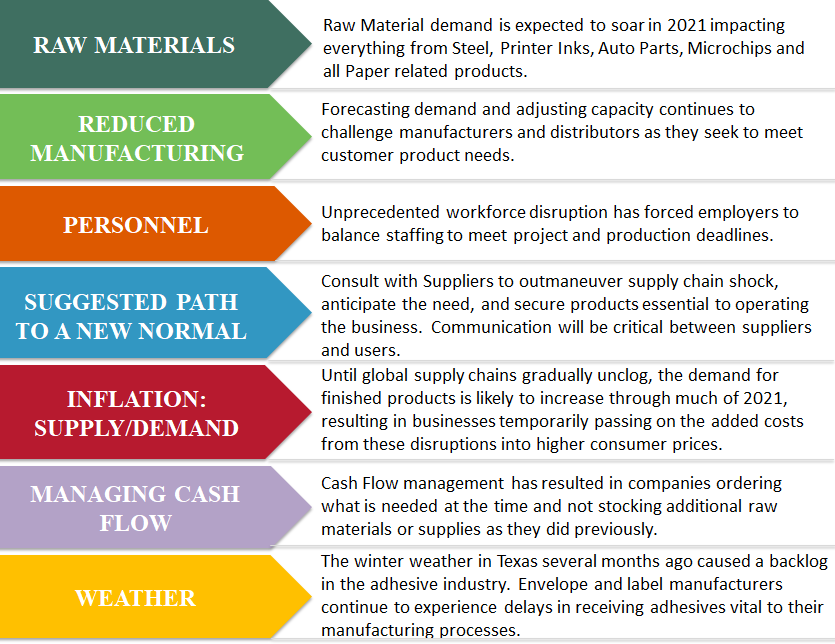 Industry News: Supply Chain Effect on Purchasing
As a valued partner of the legal and professional service industries, we feel it is incumbent upon us to alert you to the current realities regarding the supply chain for the many products we offer.
As you see in the illustration above, there are a number of factors that have disrupted the supply chain within the United States and around the world. Over the course of the last year, ALL-STATE LEGAL, like so many other companies, worked closely with our suppliers to secure product and manage our production schedule for what was very softened demand. With unprecedented economic growth expected over the next several months/quarters, we expect demand to accelerate rapidly. Though our paper, ink and legal commodity suppliers are preparing to support this growth, they are also being cautious when building their inventories. They are urging us, and we in turn would like to encourage you, to begin to anticipate your needs and allow for product lead times that will be in line with your own growth forecasts.
Specific products to plan and expect longer lead times and price fluctuations include: ASL proprietary and Mill proprietary papers, all envelopes including commodity white wove, white and brown Kraft, index tabs and most types of filing products.
Below is a link from Accenture that provides additional information at the macro level related to continued Supply Chain disruption issues that we hope you find helpful as you prepare your strategies and return to the office whenever that may be in the near future. www.accenture.com
Thank you for your time and understanding as we do our best to keep you informed of market conditions.