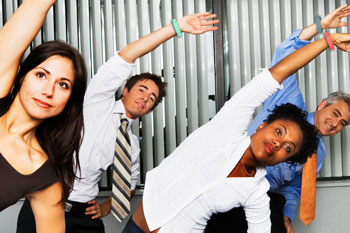 Promo Items Help Boost Employee Health
With group health-care rates spiking – some soaring by double digits in 2015 – companies are promoting healthier workplaces to help cut down on health-care claims. A Harvard University study, in fact, found that for every $1 invested in a corporate wellness program, companies could receive a $6 return on investment, a direct result of reduced medical costs and a drop in absenteeism.
Indeed, corporate wellness – which has evolved into an $8 billion industry according to IBISWorld – is clearly an important business strategy, impacting firms' bottom lines, as well as employee productivity and culture. Promoting these initiatives, and enticing employees to participate is critical to their success.
The approach is proactive versus reactive, encouraging employees to take charge of their health and make positive changes, rather than waiting until they develop serious health problems, which are much more expensive and harder to correct. Promotional products are important tools that companies can use as perks, as well as effective items that will energize and motivate their workforces.
One large firm that features a wellness program for its employees is Aetna. Of Aetna's 50,000 current employees, some 34,000 currently participate in its wellness programs, says communications director Ethan Slavin. About 40% of participants use a wearable device to log their healthy activities.
In addition to its year-round Healthy Lifestyles program, which uses cash incentives, Aetna also offers a "Get Active Aetna" initiative in the fall which is a team-based wellness challenge for employees. If they meet certain healthy activity requirements during this period, they have the opportunity to earn Aetna gear, like gym bags, yoga mats, water bottles and other apparel, or they can donate an equivalent to charity, Slavin says.
Incentives, no doubt, are key. "If there's no incentive, the engagement level is low," says Frank J. Grimm, a senior benefits adviser at LHD. "The most successful programs have multiple designs, which might be gift card programs, challenges that allow participants to enter drawings for gift cards or rewards, Web stores and promotional items. Sometimes something as simple as a water bottle gets employees excited."
If you're planning an employee wellness program, be sure to contact your Account Manager for expert service and the perfect promotional products to fit your needs.  You can also visit aslegal.espwebsite.com to start your search.