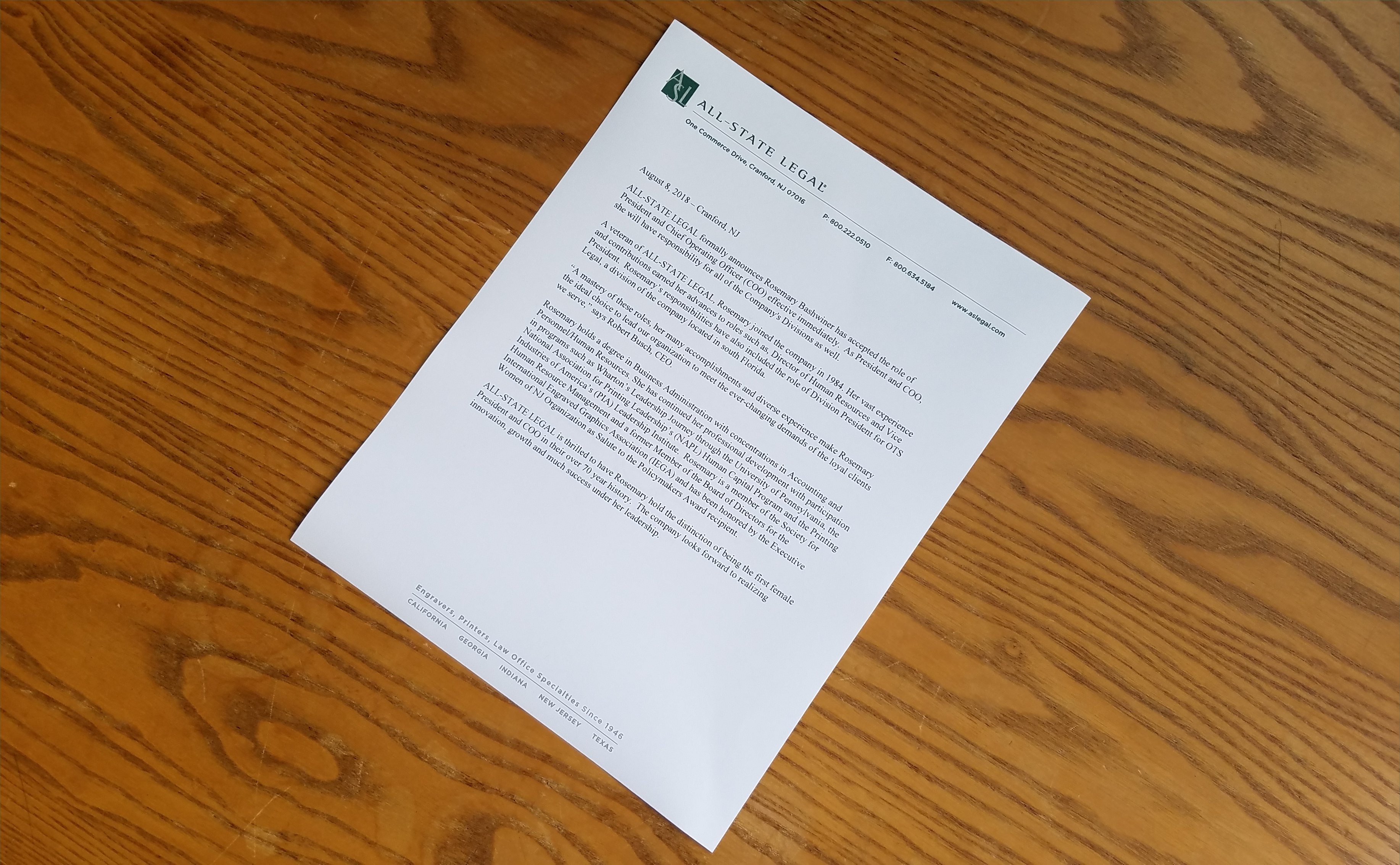 ALL-STATE LEGAL Announces First Female President & COO
August 8, 2018 – Cranford, NJ
ALL-STATE LEGAL formally announces Rosemary Bashwiner has accepted the role of President and Chief Operating Officer (COO) effective immediately.  As President and COO, she will have responsibility for all of the Company's Divisions as well.
A veteran of ALL-STATE LEGAL, Rosemary joined the company in 1984. Her vast experience and contributions earned her advances to roles such as, Director of Human Resources and Vice President.  Rosemary's responsibilities have also included the role of Division President for OTS Legal, a division of the company located in south Florida.
"A mastery of these roles, her many accomplishments and diverse experience make Rosemary the ideal choice to lead our organization to meet the ever-changing demands of the loyal clients we serve," says Robert Busch, CEO.
Rosemary holds a degree in Business Administration with concentrations in Accounting and Personnel/Human Resources. She has continued her professional development with participation in programs such as Wharton's Leadership Journey through the University of Pennsylvania, the National Association for Printing Leadership's (NAPL) Human Capital Program and the Printing Industries of America's (PIA) Leadership Institute.  Rosemary is a member of the Society for Human Resource Management and a former Member of the Board of Directors for the International Engraved Graphics Association (IEGA) and has been honored by the Executive Women of NJ Organization as Salute to the Policymakers Award recipient.
ALL-STATE LEGAL is thrilled to have Rosemary hold the distinction of being the first female President and COO in their over 70 year history.  The company looks forward to realizing innovation, growth and much success under her leadership.