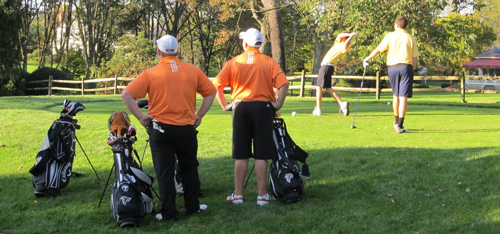 Plan the Perfect Golf Outing
Hosting a company or charity golf tournament? Remember: Gifts and prizes are key to golf events, and in fact, are the reason many people play in events and return again the following year. However, experts say it's important not to skimp on promotional items and giveaways.
Here are four popular areas for gift-giving:
Tee Gifts: These are participation gifts that are given to each golfer at registration. The gift should encourage the participant to want to come back the next year. The higher the entry fee, the better the gift should be.
Winner's Gifts: In charity events, most play in teams of four. Gifts are presented to first-place, second-place and third-place finishers. For higher-end tournaments, a nice crystal gift, like a clock or trophy that will be kept and displayed is recommended. These awards help bring people back – they're motivation to participate.
Sponsor Awards: These may be the most important items. They can be crystal or utilitarian, and they don't have to be golf-themed. For example, branded Sherpa blankets for individual sponsors. If the sponsor is corporate, a plaque or award that can be displayed on the walls of the office to demonstrate its commitment to charity.
Volunteer Gifts: The volunteers work hard, and you want them to come back too. T-shirts are common choices, but food or wine could also be a good choice.
In addition to the gifts above, you'll also need contest prizes for Longest Drive, Closest to the Pin and Hole-in-One. Items to consider for these contests include a branded bicycle and a messenger bag.
No matter the use, be sure all items have high perceived value to match the exclusive feel of the tournaments. Also, consider non-golf items like can coolers, tumblers, stainless-steel bottles, sunglasses, sun screen, folding chairs, umbrellas, sport packs and even tech products. With the amount of time spent on the golf course – minimum four hours – attendees will appreciate power banks for their cellphones.
Contact your account manager for more golf outing solutions and product ideas.