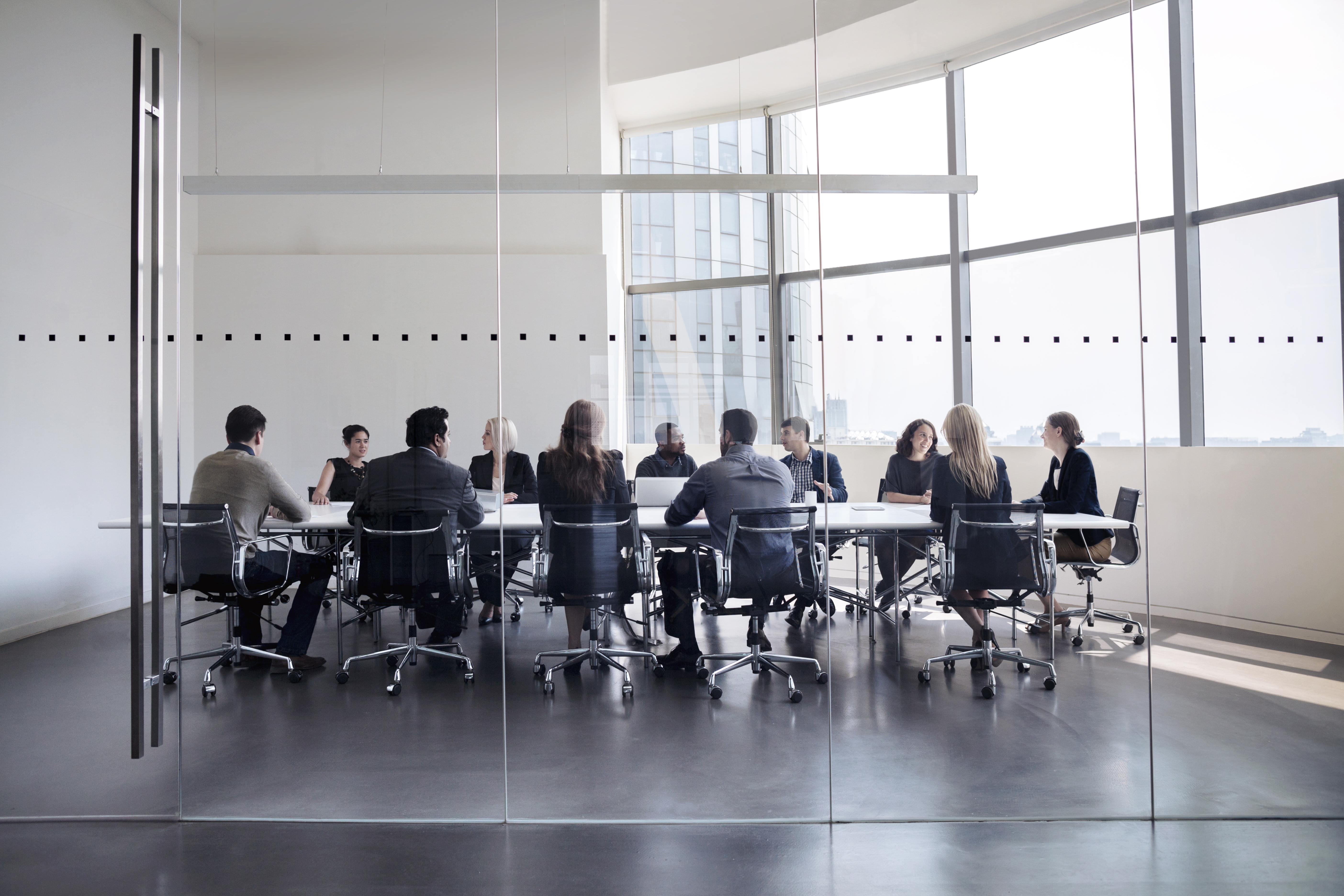 5 Ways Your Conference Room Can Reflect Your Brand
Any firm with more than two people needs a place to gather around a table to discuss ideas, meet with business partners and present to clients.  Conference rooms are set up to serve as a meeting place.  Often they are overlooked for their potential to reflect and reinforce a firm's brand.
Why It's Important Your Conference Room Reflects Your Brand
Conference rooms serve as a window into your firm.  Not everyone will see your entire office. Often times guests are moved from the lobby straight into the conference room.  You can easily convey your firm's culture and reinforce your brand through things like colors, furniture, art and other small details.
Picture this: you are presenting to a prospective client.  The room is sterile with uncomfortable chairs, void of artwork, plants or decoration.  Basically, its lacking any representation of your firm's brand and personality.  There are no pens or pads available.  Your meeting starts late because your technology is outdated or isn't working properly.  How engaged will that client be with a mediocre or, even worse, a negative first impression?  How much harder will you have to work to impress that client?
Make positive first impressions.
Even though we are told not to judge a book by its cover, we all still do – at least when it comes to first impressions.  Several studies have shown that within seconds of meeting we decide a person's wealth, trustworthiness, success and other characteristics based solely on appearance.  A meeting room that is lacking personality can negatively affect first impressions both of your firm and your presentations and meetings.
Establish a conducive work environment.
A more sophisticated meeting room helps to eliminate non-work related distractions and boost productivity.  It can also encourage your team to be more professional and foster teamwork and innovation.
5 Ways to Brand Your Conference Room
Creatively extending your brand within your conference room doesn't have to be difficult or expensive.  There are simple touches you can include in your conference rooms that will help extend your brand – from the moment a client enters your office, throughout your meeting and as they leave.
Your conference room shouldn't be an afterthought.  A large portion of time spent in the office takes place in the conference room, so it is important that it reflects the type of firm that you are and displays a sense of professionalism.
1. Furniture, Decor and Technology
The first thing your guests see when they enter your conference room is the furniture, the color of the walls, the decor and the technology that you have available.
Your wall colors should complement the colors within your firm's logo.  The furniture should complement your firm's image.  Your decor – artwork, plants, etc. – should bring your firm's personality to life.  Together, these elements will set the mood and reinforce your brand.  If you want to project a progressive, creative image to clients – one that says your team is innovative and excited by the prospect of working challenging cases – furnish with a clean glass table, colorful, modern chairs and unique art on the wall.  Decorating with large, burgundy leather chairs, a giant mahogany table and antique paintings will send a message of experience, sophistication and tradition.
When equipping your meeting room with necessary technology like monitors, projectors and collaboration tools, ensure you have hidden wires, store remotes and other devices in drawers or cabinets.  Ensure all of your technology is in working order to avoid delays in your meeting.  Try to keep your technology in the background as an aid for meetings, but not the focus. Having extra charging cables available will prove your firm's commitment to client satisfaction.
2. Wi-Fi Network Name and Password
Always post the guest Wi-Fi network name and password in your meeting room.  No one wants to start a meeting, running around trying to find the password or spend time spelling it out to guests.  This wastes time, looks unprofessional and makes you seem ill-prepared.
Be sure the Wi-Fi information is visible and permanent, but also make sure you can easily update it when the network name and passwords are changed.  A few options to consider…
Use a tent card, printed on both sides.  Display in the middle of the conference room or put one at each end – depending on the size of your table.  You can also display on other furniture – such as bookcases or credenzas – that are in the room.
Display using a frame or two-sided standing frame.  Again the number of displays will depend on the size of your room and the furniture within.
Have professionally printed business cards available.  Display in business card holders that match the decor of the room.  This allows for each guest to get set up at the same time so you can start your meeting more quickly.  Plus they are the most impressive, personal presentation.
Additionally, be sure your router is located either in the room or just outside of it.  Mounting routers on the ceiling, upside down, will keep them less visible yet still provide great range.
3. Materials for Note Taking
While we do live in a technology-driven world, many of us still hand write notes in meetings.  Having materials available, both for your guests and your team members, shows your firm's preparedness and attention to client comfort and needs.  When a guest asks if you have a pen available and everyone in the meeting starts looking, it is distracting.  Don't derail your meeting before it even begins.  And on those occasions where you or a team member fails to have a pen – or your pen runs out of ink – you don't need to interrupt the meeting in search of a new one.
Keep the below materials on hand and be sure they serve to further your brand.
Pens – branded for the biggest impact
Memo pads – branded for the biggest impact
Legal pads – branded for the biggest impact
Pen holders that match your decor
Finally, if you have a white board or glass board – be sure to have dry erase markers and erasers available.  Making sure these items are stocked and in good condition prior to a meeting will help your avoid unnecessary disruptions.
4. Refreshments and Luncheon Supplies
If you've ever attended a meeting, you know that as soon as the meeting starts someone will need a drink.  Or someone will start coughing and need a mint. Or someone's stomach will growl.  And if you've ever attended a working lunch, you know that conference rooms can often double as a cafeteria.  Take advantage of these situations by providing refreshments.  This shows your attention to detail and your concern for your guests.  Plus, many refreshment and luncheon supplies can add your brand  to your conference room in subtle ways.
Whether you are serving a full lunch or just having a meeting, some essentials for conference rooms are:
Placemats – branded for the biggest impact
Coasters – branded for the biggest impact
Napkins – branded for the biggest impact
Mugs and glasses – branded for the biggest impact
Insulated cups with lids – branded for the biggest impact
Carafes and other containers
Snacks, mints, etc.
Coffee, tea, water and soda
Creamers, sweeteners and stirrers
Another absolutely essential, yet often overlooked item, is a trash can.  A trash can ensures your conference room will remain tidy and professional for the next meeting.
5. Bottled Water To Go
Whether personalized with your brand as a great finishing touch or simply available to your guests, bottled water is a terrific addition to your conference room.  Having water available in your conference room allows meeting attendees to remain focused on the content of the meeting.  What better way to end a meeting and say that your firm cares than by asking if your guests would like water for their trip back to their office or home?
When Your Conference Room Reflects Your Brand
Now picture this: you are presenting to a prospective client in a room with professional furniture, comfortable chairs and appropriate wall decor.  You have firm branded pens and pads available, easily accessible Wi-Fi passwords and small branded touches that make your prospective client feel like they are your top priority.  How much easier will it be to engage and impress that client with your work product now that he/she has a positive first impression?
Make sure your client leaves focused on the details of the meeting instead of lamenting the minor inconveniences and missed details of your conference room.